Plaintain Seed Cracker Recipe
I'm so pleased with this recipe for wild crackers - they're so easy! Prepared in minutes and slow-baked to create a crisp texture that lasts well and is ideal for wild salsa verde, local cheese with wilds or how ever you like to top your crackers!
I used wild-harvested seeds from common weeds (see below) and my optional nettle powder for a green version. Using wild seeds are a great way of increasing your nutrition and using abundant plants growing locally.
I also have a seaweed version of these crackers, for a more umami flavour.
These nutritious crackers are boosted with ribwort plantain seeds (Plantago lanceolata) but you could use the seeds from any of the plaintain family. Yes, that's right, these seeds are edible and everywhere!
Where can you find plantain growing?
Plantain is not a fussy grower! It happily grows on wasteland, dry soil, in wet bogs, coastal areas, on mountains, in towns and gardens. It is one of the largest plant families found all over the world with around 200 species.
Is plantain the same as the banana type of plantain?
Although it shares the same name, these two plantains are unrelated. Here I am talking about plantago not bananas!
What are the most common plantains in the UK?
Greater plantain (Plantago major) and ribwort plantain (Plantago lanceolata) are the most common plantains in the UK - see images above. Greater plantain has the broad leaves and ribwort has the long ones.
Is plantain good for you?
Plantain has been used for thousands of years as a food and medicine. The leaves, flowers and seeds can all be used. Traditionally used for coughs and bronchitis, plaintains are rich in minerals and the seeds are full of fibre and protein too.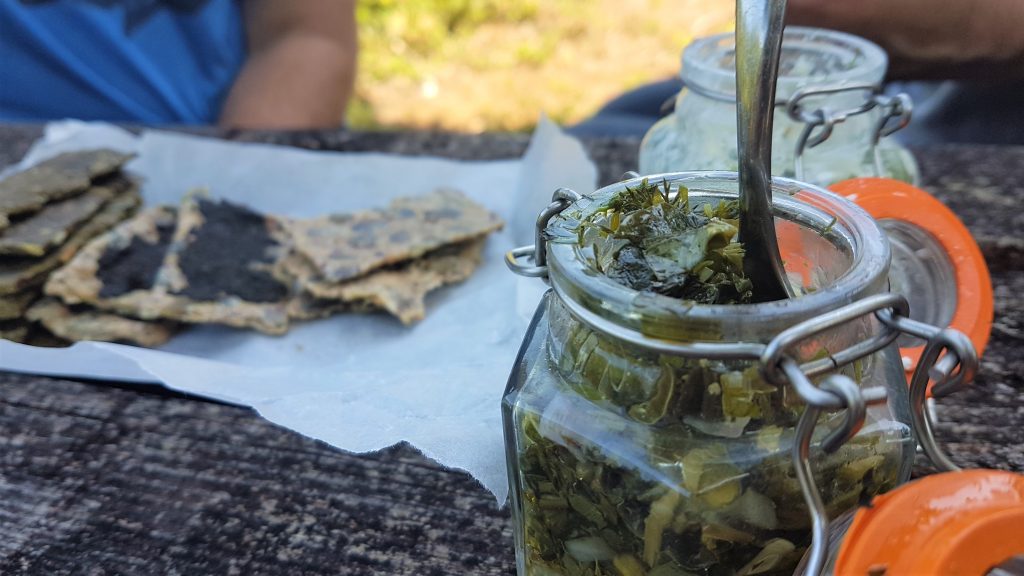 Plantain Seed Cracker Recipe
Easy, tasty and all-round great homemade crackers! These also happen to be vegan.
I used ribwort plantain seeds for this recipe, because they were nearby. However, greater plantain has longer seed heads, so do harvest these instead if you find them! You could also vary the mix and amounts of seeds according to what you have, this recipe is based on what I had to hand.
Preparing the plantain seeds
For this recipe I use green seeds in early summer. Later in the summer I could use the dried, smaller ones, these will weigh a lot lighter though. The seeds should be visible on the stems. Just rub the stems and seed heads and they should come off easily. If they don't it means they are still flowers and haven't gone to seed yet.
Makes 28 (approx)
Ingredients
135 g /1 cup pumpkin seeds
20 g /2 tbsp linseeds
20 g /1/2 cup green plantain seeds
1 tsp seaweed salt or sea salt
7 g /2 tbsp nettle powder (optional)
100 g plain flour
100 g wholemeal or spelt flour
50 ml vegetable oil
200 ml boiled hot water
Optional topping
1 tbsp water
1 tbsp soy sauce
1 tbsp nettle powder
In a large mixing bowl, combine the seeds, salt and flour, then add the oil and boiling water and stir well. It will resemble stiff, soggy porridge. If you like you can halve the mixture and add green nettle powder to one batch for a different, earthy flavour.
Preheat the oven to 140ºC /fan 120ºC and roll out the dough between two sheets of silicone or baking paper to the thickness of one seed. Cut into rectangles, about 5 cm x 2 cm and using a spatula, peel off and place on a clean baking sheet in two large baking trays.
Optional topping: I had a great idea to add a soy sauce and nettle powder coating to the plain crackers. They didn't turn out quite as I wanted (visually) but tasted delicious! So here it is, do adapt this to make it better - I'm sure you can!
Bake for 1 hr or a little more until light brown and crisp. Allow to cool and store in an airtight container.