Pineapple Weed - the amazingly, fruity weed!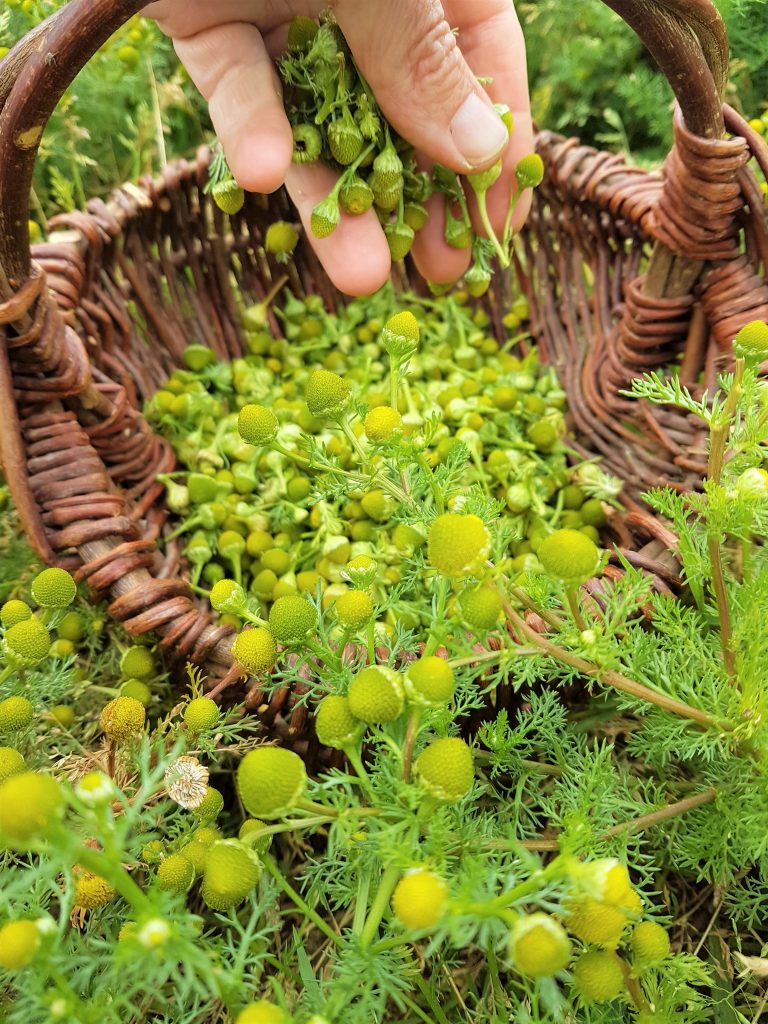 If I say 'pineapple', what do you smell? If I say 'mango, passsion fruit or citrus', what do you smell?! The power of suggestion is a clever influence when it comes to smell and taste, but honestly, pineapple weed (Matricaria discoidea) really does smell of all of these!
It's what stands it apart from the other members of the DAISY FAMILY Asteraceae (Compositae), including mayweeds and chamomiles. Yet there are a few other pointers which will help you avoid mistakes too.
Where does pineapple weed grow?
Pineapple weeds loves to grow where people, vehicles and animals tread. In some places it is nicknamed the 'street weed.' As if it is trying to make our journeys sweeter smelling. I regularly find pineapple weed growing through cracks in the pavement, on driveways, paths and disturbed areas of fields, like tractor tracks.
Pineapple weed is a prolific edible weed which is happy to grow in dry, disturbed ground which is often compact and hostile for many other plants. It is native to and grows across the US and has been well-established in the UK and Europe since 1871. It is found in New Zealand and Russia and it is also native to East Asia.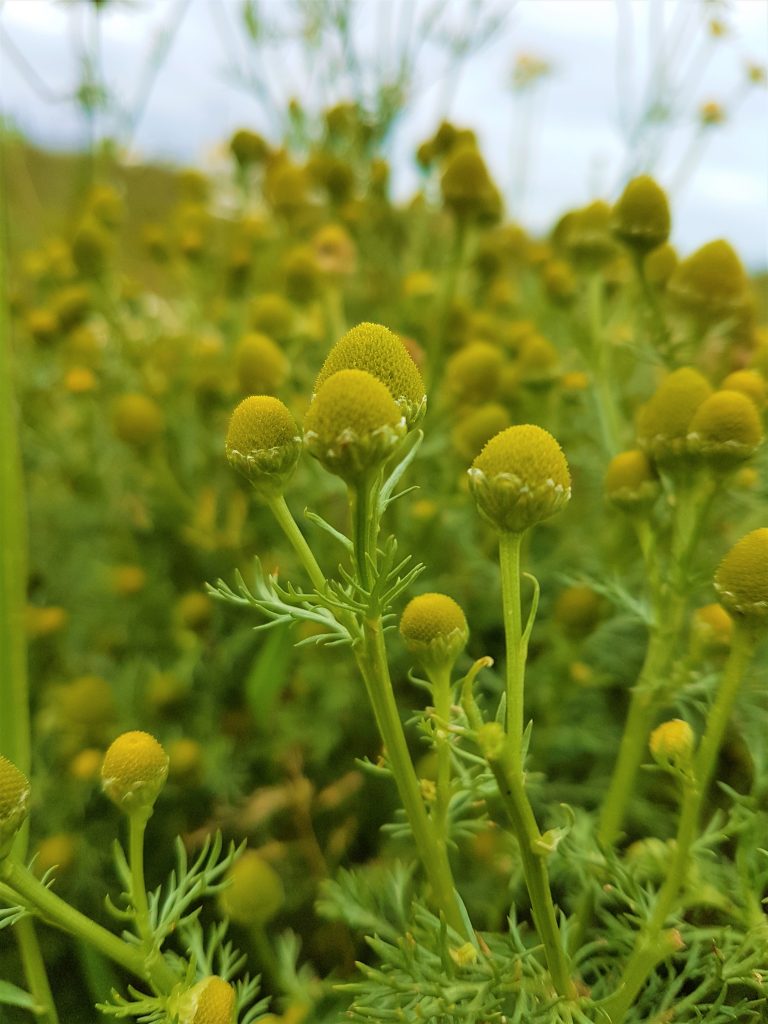 Pineapple weed verses Chamomile
Confusingly, pineapple weed is also known as wild chamomile or false chamomile because it is a good substitute both medicinally and flavour-wise if chamomile is not available. However it is not the same as the 'true' chamomile (Chamaemelum nobile) which is used in herbal tea or as an essential oil to calm and relax children and adults, nor its cousin scented mayweed (Matricaria recutita) which is used similarly. Pineapple weed has the same uses as scented mayweed except it isn't anti-flammatory.
Pineapple weed does not have white petals and it smells of pineapple! In comparison, chamomile is strongly aromatic, but not fruity in scent and other mayweeds have either no scent or a mild scent. Unless it's stinking chamomile (Anthemis cotula) which has a sickly smell!
How to identify Pineapple weed
Pineapple weed grows up to 30 cm tall, is yellowy-green, has no petals and a domed, conical shaped head. The head shape is thought to be the inspiration for the name 'pineapple weed', that and its fruity smell! It flowers through summer, from June to August. The common scentless mayweed is normally taller and grows up to 60 cm tall.
Confused?!
It's really easy when you know how, this video should help you.
What is pineapple weed good for?
Pineapple can be used as an ingredient for teas and food (I share recipe ideas below) and it also has medicinal qualities. It can be used for insomnia (similar to chamomile), has been used externally on insect bites and irritated skin and it also has analgesic properties and can numb pain!
Some people are allergic to pineapple weed and other members of the daisy family and this plant should not be consumed in large amounts.
How to harvest and dry pineapple weed
Pineapple weed loves to grow in dry areas so it is easy to dry for tea and recipes. I find it useful to use scissors to cut off the flowering yellow heads, leaving as much of the green foliage behind as possible.
You can dry pineapple weed in a warm, sunny room, a warm spot outside or in a dehydrator.
8 recipe ideas for using pineapple weed
Pineapple weed has a wonderful fruity flavour and can be used raw in salads, infused for teas, syrup, salad dressings or made into a jam for gorgeous snacks and desserts.
Here are 4 quick and easy ideas for using pineapple weed;
Pineapple weed in salads - use the flower heads and leaves in salads to add a fruity bite
Pineapple weed syrup - just use the flower heads to make the best syrup. Cover the flowerheads with water, simmer for 5 minutes and strain. Measure the water and combine every millilitre with a gram of sugar, or every cup of liquid to one cup of sugar. Combine the liquid and sugar and heat slowly while stirring until the sugar dissolves. Dilute for drinks, cocktails or salad dressing
Pineapple weed salad dressing - mix half pineapple weed syrup with olive oil, vinegar and a little wholegrain mustard. Combine well and drizzle over salads or cold meats.
Pineapple weed tea - simply pour boiling water over dried or fresh pineapple weed flowers and leave to infuse for 5 minutes. My friend Lisen in Sweden combines it with thyme as a herbal tea blend.
My favourite pineapple weed recipes
Pineapple weed has huge potential as an ingredient. It is both fruity like pineapple and aromatic like chamomile. I also discovered it combines really well with oats and yoghurt.
You can use any of the combinations below, but my favourite recipe is first making a pineapple weed jam and making it into a fruity, crumbly vegan flapjack with a chewy pineapple weed centre!
Granola and yoghurt topped with pineapple weed syrup
Pineapple weed flapjack topped with yoghurt (blend pineapple flowers into a flapjack mix)
Pineapple and pineapple weed jam, granola and yoghurt
Want to know more?
Pineapple weed is one of the edible plants I teach on my foraging courses during summer and I can also cover it in private forays where you can choose what, where and when you forage! Or browse my wild food blog for more recipe and foraging ideas.