Nettle Energy Balls Recipe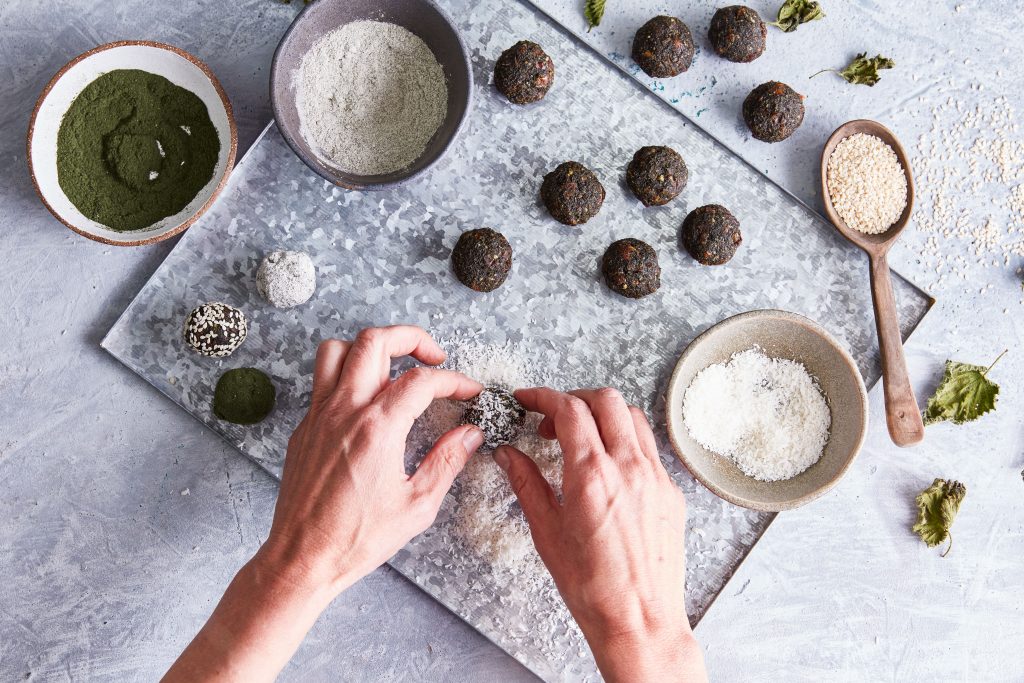 I love making these, they're so easy and utterly scrumptious. Unfortunately my dog discovered he liked them too (when left alone in the kitchen with them). So now I have to make, then hide them, and the dog is now sleeping the whole lot off!
I love these so much I've created two versions for you. There are thousands of ways to create nettle energy balls, so hopefully this give you some idea of combinations for you to try for yourself.
Lemon and Nettle Energy Balls Recipe
These zingy balls are easy to make and rather addictive! Once you've made your nettle powder, they can be made any time of year.
Makes 12–15
Ingredients
250 g (1 cup) pitted dates
3 tbsp lemon juice
60 g (⅓ cup, plus 1 tbsp) cashews
2 tbsp Nettle Powder
Toppings (optional)
3 tbsp sesame seeds, desiccated coconut or nettle powder
Combine the ingredients in a food processor. If making by hand, finely chop the dates, place in a small bowl cover with the lemon juice and leave for 5 minutes. Meanwhile, finely grind the cashew nuts in a seed grinder, a strong plastic bag with a rolling pin or patiently in a pestle and mortar. Add to the date mixture, along with the powdered nettles, and massage thoroughly with a spoon or your fingertips until the mixture is smooth and can be rolled into (somewhat sticky). Shape the mixture into 5 cm balls. Pour each topping into a shallow bowl and roll the balls until coated. Store in the fridge and use within a week; best eaten at room temperature.
Sweet and Nutty Nettle Energy Balls
These are sweetened with nettle syrup and the powdered nettle sugar coating gives them a delicious, almost seaweed-like flavour.
Makes 12–15
Ingredients
Follow the method above, using just half the nettle powder and leaving enough time for the syrup to be absorbed before rolling into smooth balls. For the coating, combine the icing sugar and rest of the nettle powder and roll the balls in the powder. Store in an airtight container in the fridge, along with any excess coating and use within a week.
Filed under:
SPRING, Stinging Nettles, SWEET WILDS, This Season
Tags:
energy balls, green powder, healthy snacks, nettle recipe, protein powder, raw food, stinging nettles, superfood powder, superfoods, Urtica dioica