Moreish Elderflower Doughnut Recipe
For me, Summer is about outdoor adventures, picnics, barbecues, fayres, festivals and the beach. Elderflowers are the perfect accompaniment, unless it's a festival or fayre - then it's doughnuts!
Here I share my ultimate elderflower doughnut recipe - they're gorgeous!
Yes, doughnuts are fayre food for me, when I'm tired and hungry from dancing it's the smell of doughnuts that I sniff the air for. Created following a mini disaster – my Cornish town's annual fayre and no doughnut van in sight – they are a delightful summery twist on the hot sugary ones I yearned for. Complete with a gorgeous soft, jam centre and sweet elderflower coating, these are melt-in-the-mouth with a double dose of elderflower to keep spirits high.
For this recipe you'll need to first make elderflower cordial - here's my simple elderflower coridal recipe, plus lots of information about where to find elderflowers, when to pick them, what the benefits of elderflowers are. You can also find tips on when to avoid elderflowers.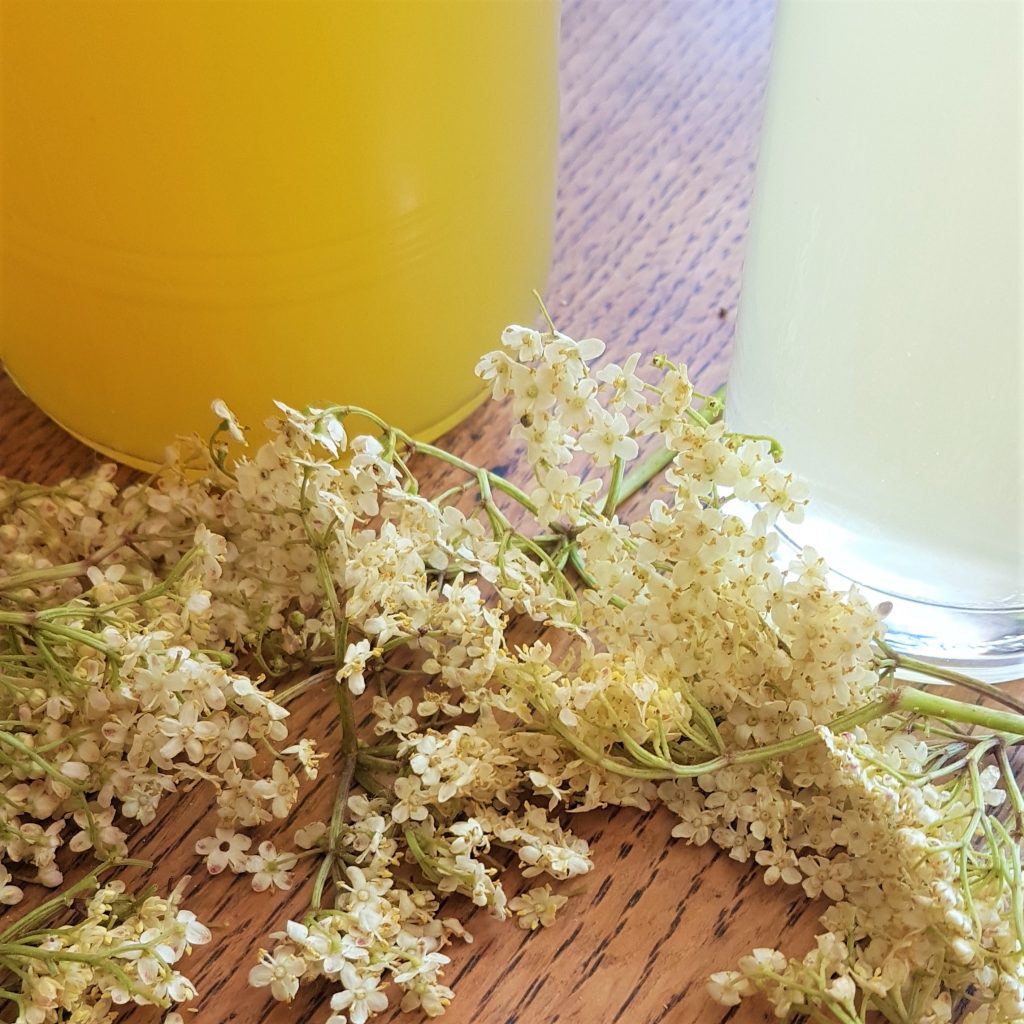 Elderflower Doughnut Recipe
Makes 12
Ingredients
1 tbsp dried yeast
1 tbsp unrefined caster sugar
135 ml milk                                                   
50 g butter
1 free-range egg, beaten
275 g plain flour (replacing 25 g with wholemeal flour if you wish)
200-300 ml vegetable oil, for frying
Iced coating
Warm the milk in a small pan, take 2 tablespoons of the warm milk and mix with the yeast and a pinch of sugar and leave until it gets frothy. Meanwhile, cube the butter and gently plop into the milk, mixing until the butter dissolves. In a large bowl, sieve the flour and add the rest of the sugar, make a well in the middle and add the frothy yeast, buttery milk and the egg. Mix then knead and stretch for 5 minutes, cover and leave in a warm place for an hour or until doubled in size.
Dust a large baking tray with flour and knead the dough for 5 minutes, break the dough into 12 pieces, rolling each piece into a ball and place on the baking tray. Cover and leave to rise for half an hour or until doubled in size. Prepare a couple of dinner plates with kitchen paper and heat the oil in a deep pan to 190°C or until a small piece of dough dropped in the oil sizzles and floats to the surface. Using a slotted spoon, drop 2-4 dough balls into the oil and fry until golden brown, turn over and brown on the other side. Remove and place on the kitchen paper, repeat with the remaining dough balls. Using a filling nozzle, flavour injector or a teaspoon, make a small slot in the side of each doughnut and fill with jam. To finish off, in a small bowl mix the icing sugar with the elderflower cordial and dunk the top of each doughnut in the icing. Eat warm or cold.