Making Rosehip Fruit Leather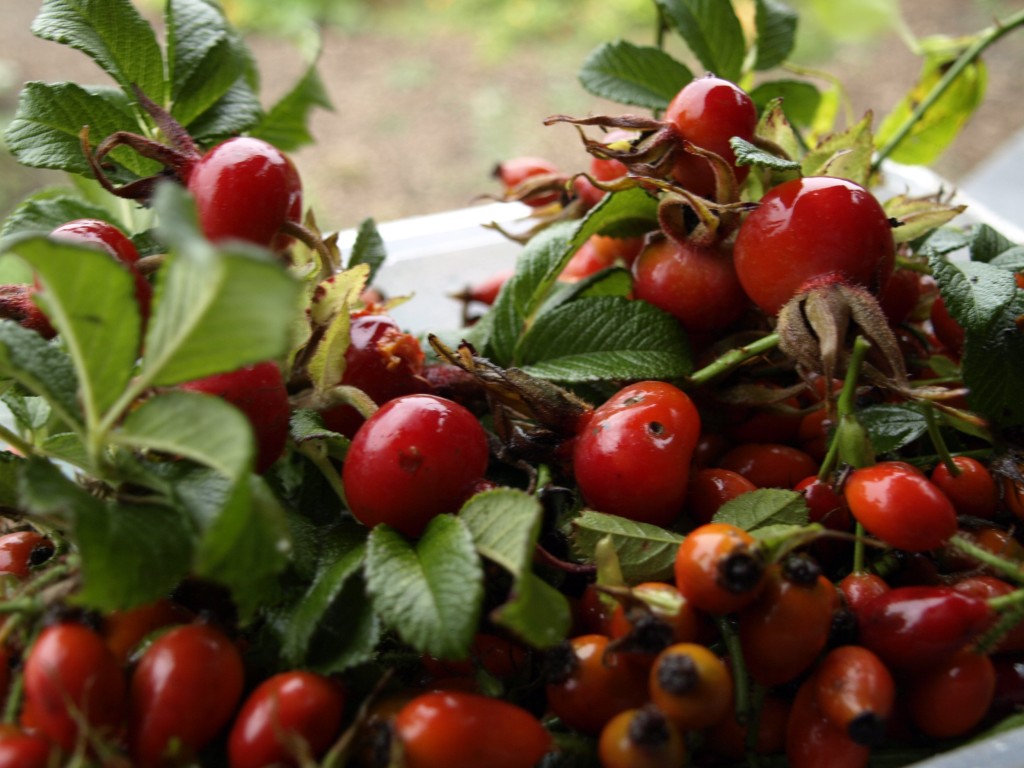 I recently led a group of families on a foraging walk & as part of the day I provided sweet biscuits with rosehip fruit in them. I wanted to show how this fruit can be utilised in ways other than just for syrup. The biscuits went down really well, though what I didn't provide was guidance on how to process the fruit into a versatile ingredient for many recipes, so here it is!
This is a labour of love. It is a process to be enjoyed, with a fruity goal in mind - a delicious and versatile sheet of pure fruit which can be used can be stored for months and used as a snack or to flavour many dishes, for example tarts, pies and ice cream. Best done when you feel you have the time, preferably with helpers - friends or family.
What
Using Japanese Rose (rosa rugosa) hips will enable you to reap more fruit for your work, they're a larger hip than our native rosehips making them easier to handle.
Gather rosa rugosa 'hips' (the fruit), these plants have naturalised in many places, originally many were planted on sand dunes & shingle beach areas to help stabilise the ground. You can also find them on waste ground, or befriend someone who has them growing in their garden - a proportion of your foraged product afterwards is normally gratefully received.
When
Start looking out for hips from late summer & through autumn. You could of course wait for after the first frost, at the risk of the birds getting them first. Living in Cornwall, with a milder climate & being impatient to utilise these fruits, I normally pick them as soon as possible & freeze them to 'fake' the first frost. I'm looking for the dark red fruits, not too orange in colour. Freezing them also means you can store them until you're ready to embark on processing them.
How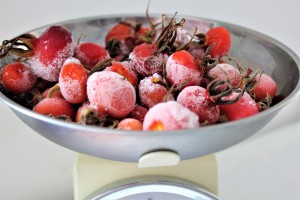 Defrost or pick the fruits after first frost. Start processing them as quickly as possible so not to loose valuable vitamin C. Carefully and patiently remove the flesh from around the outside of the fruit, careful not to dislodge the tight ball of hairy seeds. You want to avoid these seeds as they can irritate the digestive tract. This is a messy and fiddly job, so take your time, you'll be left with a pile of fleshy rosehip pulp, and a pile of hairy seeds. Discard the latter. You may want to chop the pulp a little, to ensure that you don't have too bigger pieces of flesh or fruit skin.
If you're using a de-hydrator, follow the instructions for making fruit leather, and spread the fruit pulp onto the teflon sheet before drying the fruit for several hours. If using an oven, line a dish or baking tray with oven-proof clingfilm, and spread the pulp on, about 2mm thick. Put the oven on the lowest heat and leave for up to 12 hours.
The consistency of the fruit leather can be altered according to taste - slightly moist and chewy or dry and almost brittle. The latter will keep longer. When needed, rehydrate the fruit and blend of break into pieces.
The Flavour
What I love about processing fruit this way is that there is no need to add sugar. Instead, you can get to taste a mixture of natural sweetness & tarty-ness of this amazing super fruit.
What next & how to use... Now the fun bit. Once you've made your fruit leather, either keep it whole or cut it into strips & store in an air tight container. It will keep for over one year. Now your fruit can be used in various recipes, these are just some of the ones I've tried so far. Before using the leather, best to break it into small pieces & re-hydrate in a small amount of warm water.
Rosehip fruit ice cream, Rosehip fruit chocolate, Rosehip fruit biscuits or in simply in porridge. You can of course still use it in traditional recipes such as rosehip syrup or sweet soup, or simply chew on it as snack when out walking, or when you need a energy & vitamin C boost.
Filed under:
AUTUMN, SWEET WILDS
Tags:
Cornwall, Devon, dog rose, family, Foraging, recipes, Rosa canina, rosa rugosa, rosehip, rosehip cordial, rosehip syrup, rosehips, wild food