Elderflower and Strawberry Jam Recipe
The taste of summer (elderflowers) and their medicinal, anti-viral qualities can be enjoyed in many desserts, drinks and snacks. Here I share my Elderflower and Strawberry Jam recipe, which is delicious on toast and a divine filling for my moreish Elderflower Doughnuts.
This is an easy recipe for making strawberry jam from fresh strawberries. I also share how to make jam set, how to use this jam and why strawberries and elderflowers are good for you.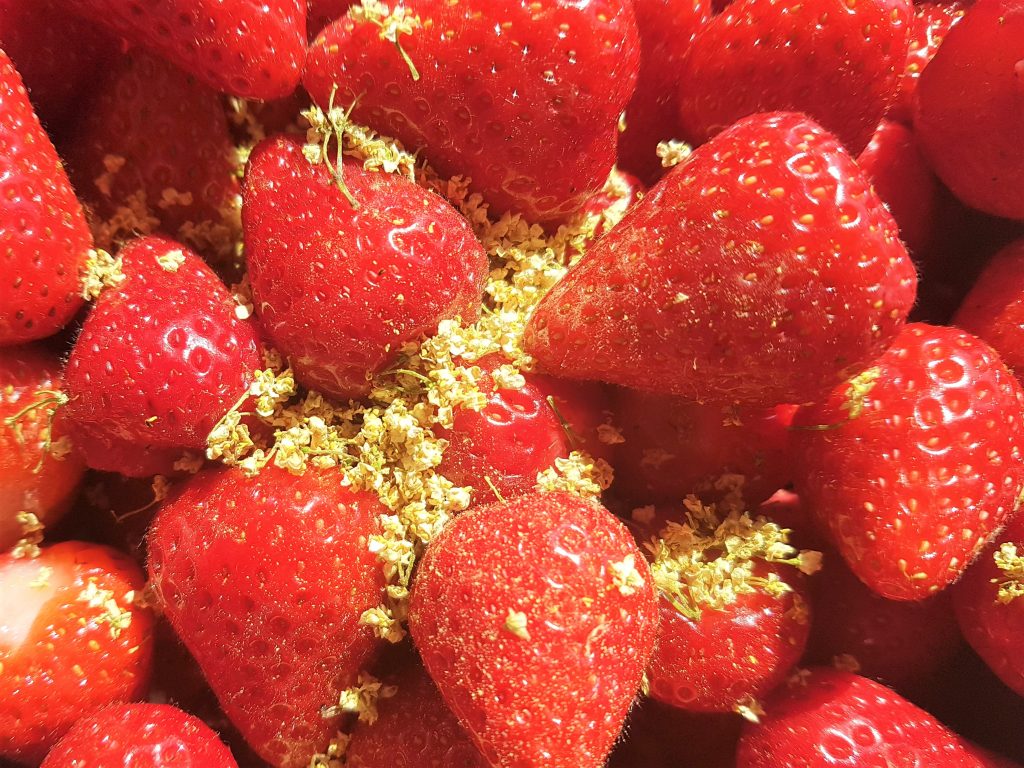 Fresh, healthy strawberries
Strawberries are an excellent source of vitamin C and K and also contain a good amount of fibre, folic acid, manganese and potassium. It's healthy to include a variety of fruit and vegetables in your diet.
Seasonal, local strawberries are the best and, luckily, they often ripen at a similar time to elderflowers, making them perfect companions.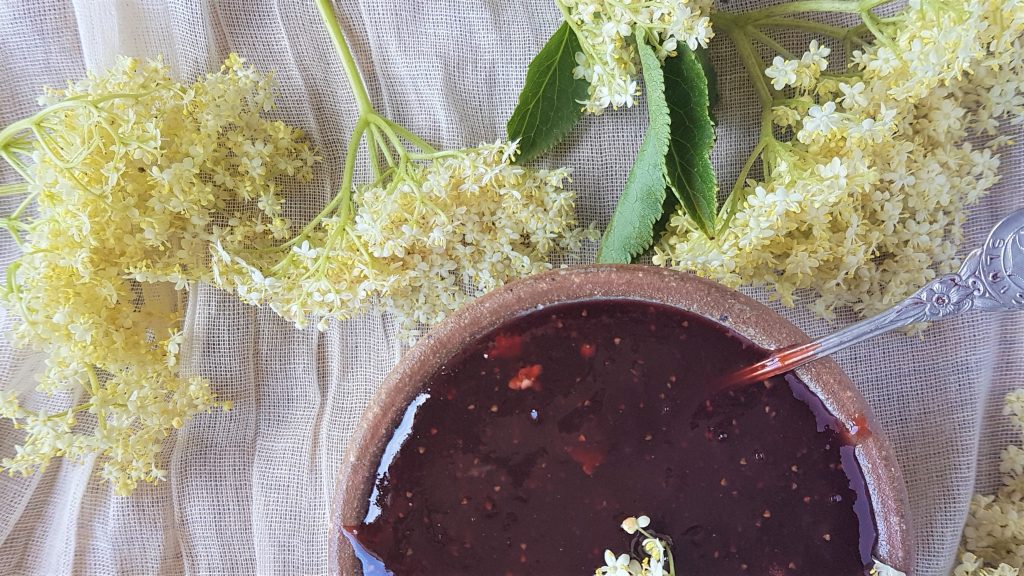 Elderflowers
Elderflowers are my seasonal wild food of the month! A wonderful anti-viral with a gorgeous scent, they can help treat colds, flu, coughs and bronchial infections.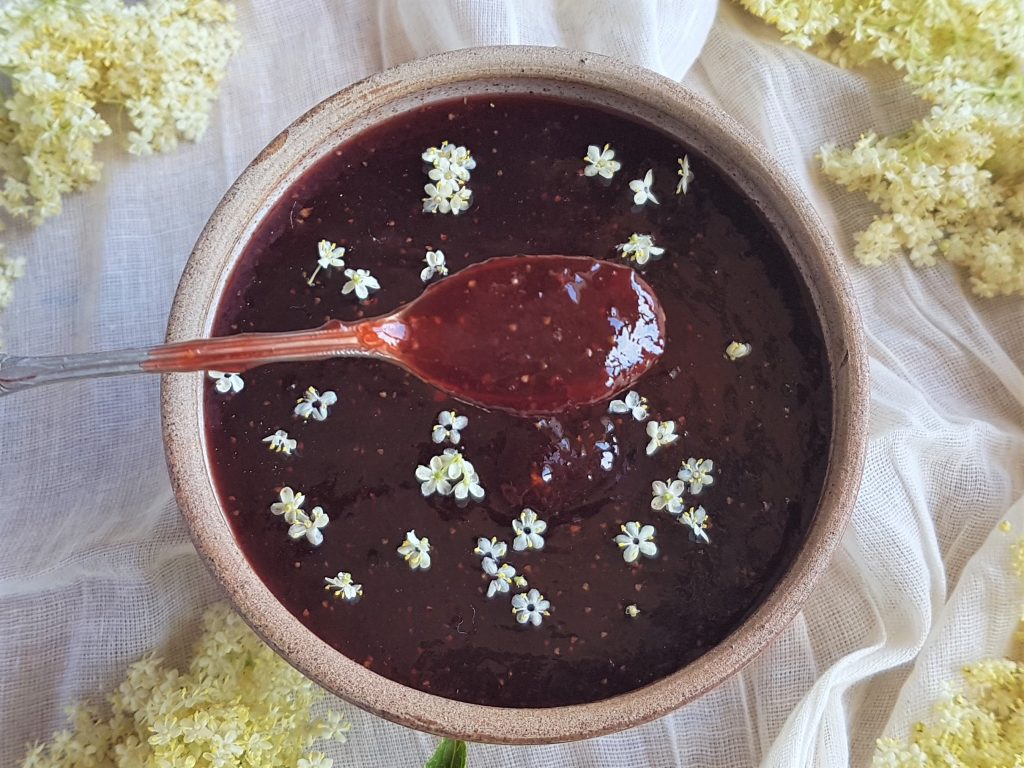 My Elderflower and Strawberry Jam Recipe
I'm often inspired by the seasons, the wild foods surrounding me - their taste, smell and texture and fellow cooks that I admire. Darina Allen is one such cook, her traditional family recipes are some of my 'go-to' ones, and this recipe was inspired by her Mummy's Strawberry Jam recipe.
I've added a wild twist, of course.
Makes 1.3 kg jam (approx)
Ingredients
1 kg fresh strawberries
800 g golden granulated sugar
5-8 elderflower heads (flowers forked off and stems discarded)
50 ml elderflower cordial (or lemon juice)
Take off the green tops of the strawberries and rinse if needed, you then need to make sure they're are really dry. You can gently pat them dry with a tea towel. Once dry, place in a stainless steel saucepan - it will be easier if you use one that's bigger than the one I used above!
Sprinkle in the elderflowers (removed from the stems) and the elderflower cordial or lemon juice, next you'll be adding the sugar. According to Darina Allen, the best way to make jam from fresh strawberries is to heat the sugar first. This isn't essential but might make a better jam!
To heat the sugar, place it in a stainless steel bowl in a preheated oven to 180/160C fan/350F/Gas 4. Heat for 15 minutes then pour evening over the strawberries and elderflowers. Alternatively, pour over the sugar cold. Cover and leave for 12-24 hours. Overnight should be suffice, but I left mine for 24 hours and all the strawberry juices had really started to come out - yum!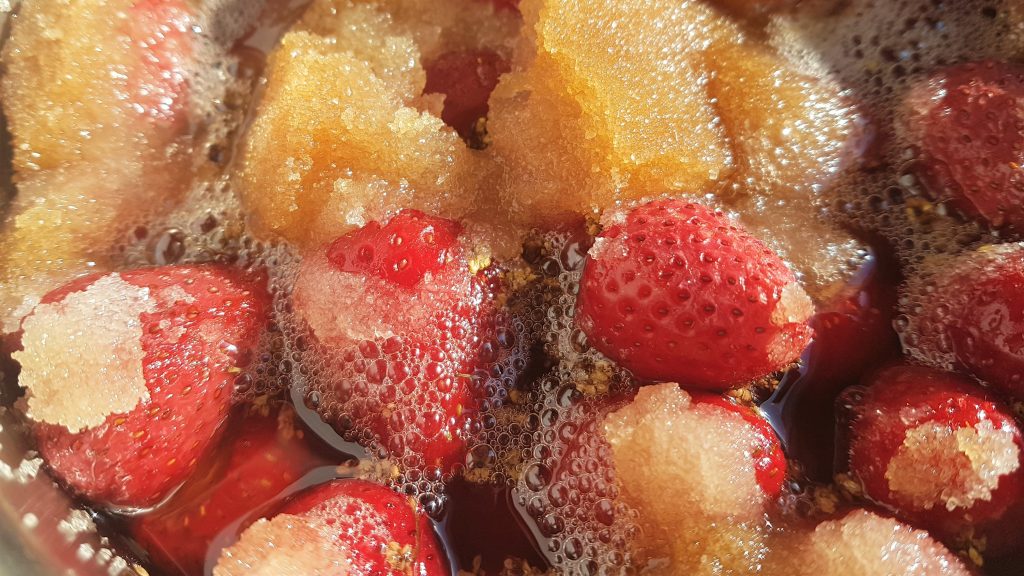 It may sound like a lot of sugar, but this will help preserve the strawberries and at least it is unrefined rather than white caster sugar!
The combination of fruit, sugar, heat and lemon juice will ensure that your jam sets. The citrus juice in the elderflower cordial is also enough to set the jam - and it's my preference to use the cordial.
Next bring the pan to the boil, stirring to help dissolve the sugar. Mash the fruits with a potato masher, or a blender stick. I used a blender stick as I wanted a smooth jam I could use in elderflower doughnuts, but you might want a more rustic one for sandwiching together cakes, mixing in rice pudding, spreading on scones or smothering over toast.
Leave the jam to boil for about half an hour. You can use a jam thermometer if you prefer or test the jam by taking a teaspoon of the jam and placing on a cold saucepan. Move the jam around, if it starts to wrinkle at the edges as it cools, then it is ready.
Decant into sterilised jars and leave to cool.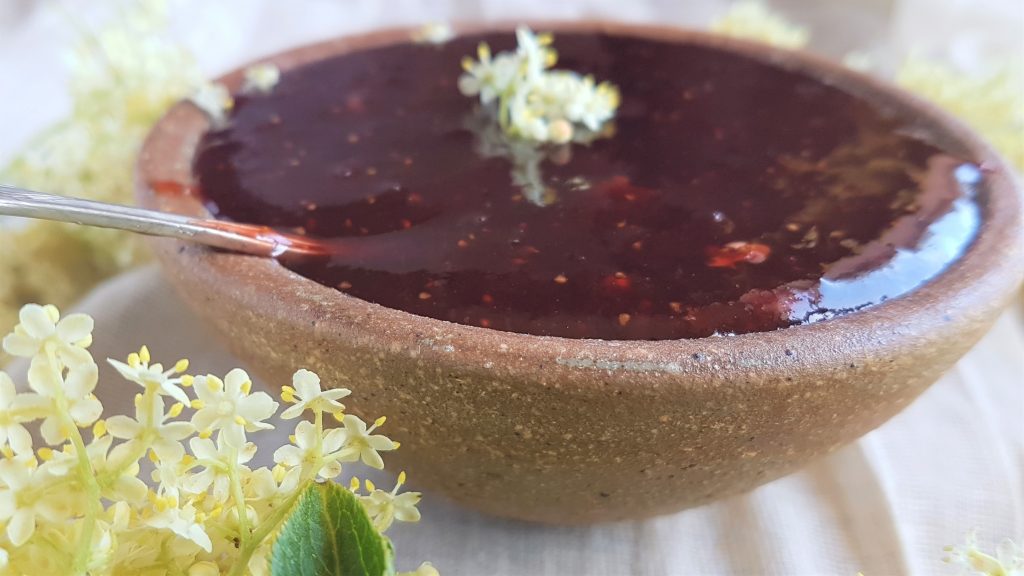 Elderflowers are one of the plants I cover on some my summer foraging courses. I teach foraging throughout the year - helping you connect to the abundance of health-giving foods available on your doorstep.